News
Toshiba TEC Carbon Zero scheme breaks the 200,000 tonne barrier
24th April 2013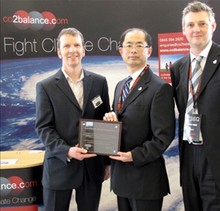 Presentation to mark the offsetting of over 200,000 tonnes of CO2e since June 2009.
Toshiba TEC has been presented with an award to mark the offsetting of over 200,000 tonnes of CO2e through its carbon zero programme.
Since 2009, Toshiba TEC has been working with leading carbon management company co2balance to calculate and offset the carbon dioxide emissions created from the manufacture, distribution and operation of its MFP products supplied to the European market, in order to achieve Carbon Zero status.
At a recent presentation ceremony, Steve Hewson, Sales & Marketing Director of co2balance presented Yasuhiro Jingu, Vice President & General Manager of Toshiba TEC Europe with an award to recognise the achievement of offsetting 202,421 tonnes of CO2e between June 2009 to Dec 2012. This is the equivalent to 44 flights on the Space Shuttle, one third of all European air travel for a day, or the total annual carbon footprint of 39,607 European cars.
A number of social and environmental schemes have benefited from Toshiba TEC's programme. These include a gold standard project that helps villagers in Kenya to reduce their own carbon footprint by using energy efficient stoves; typically saving three tonnes of CO2 emissions every and helping to reduce the 1.6 million deaths each year that the World Health Association identifies as associated with smoke inhalation. Another scheme supports wind farms in rural India, while the newest scheme will repair and maintain vital supplies from bore holes in Uganda in order to supply fresh water to poor communities.
Jeremy Spencer, Marketing Director of Toshiba TEC UK commented: "We are really excited to reach this milestone as we put CSR at the very heart of our business. This comes on the back of us announcing our plans to achieve PAS2060 Carbon Neutrality status and extending our award winning Carbon Zero scheme to our dealers and distributors"
For further information on carbon offsetting please visit co2balance.com. For further information on Toshiba please phone 01932 580100, email info@toshibatec.co.uk, or visit www.toshibatec.co.uk
Recent Stories: